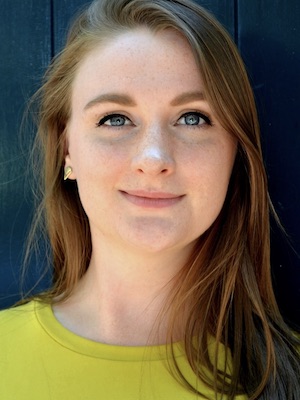 Iris Frowijn
1st Winner Presentation Award 2023
Department of Developmental Psychology, Tilburg University, the Netherlands & Fivoor Research and Treatment Innovation, Kijvelanden, the Netherlands
My name is Iris Frowijn, I am a PhD student at Fivoor and Tilburg University on the topic of transgressive behavior in forensic psychiatry between the patient and healthcare professional. In my research I aim to explore underlying mechanisms and motives within the therapeutical alliance that may lead to transgressive behavior. I hope to share these results with all of you at the EAPL in the upcoming years!
Abstract: Forensic psychiatric patients form a heterogeneous group with wide-ranging psychopathologies, offenses, and risk factors. Hence, latent class analysis (LCA) can allow for the formation of stronger homogeneous patient classes, which can improve the predictive validity of forensic risk assessment tools, such as the Historical Clinical Future – Revised (HKT-R), which was used in this study. In particular, dynamic clinical risk and protective items are important in treatment and are obligatorily assessed annually for every forensic patient with a TBS measure in the Netherlands. However, not every factor is as predictive of recidivism for every group of patients. Therefore, this study investigated the predictive validity of the HKT-R at clinical item-level per patient class. A cohort of 332 forensic patients, who were discharged from highly secured Forensic Psychiatric Centers/Clinics (FPCs) in the Netherlands between 2004 and 2008, was followed. LCA was performed to cluster this group of patients based on psychopathology and criminal offenses. The predictive validity of the HKT-R clinical items by class was assessed with official reconviction data two and five years after discharge as outcome measure. As a result, four classes were identified. The predictive validity of the HKT-R clinical items showed differences between and within classes on admission or discharge, and for predicting violent reoffending after two or five years after discharge. In conclusion, different risk/protective factors of the HKT-R may play a role for different subgroups of patients. Therefore, this heterogeneity should be considered for any measure or intervention.
---
---
---
---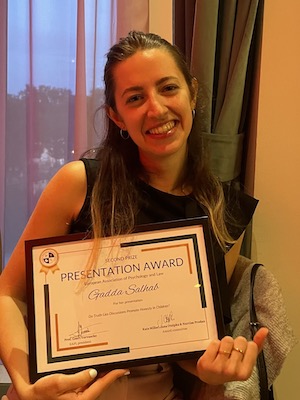 Gadda Salhab
2nd Winner Presentation Award 2023
University of Portsmouth, United Kingdom
I am a second year PhD student at the University of Portsmouth, UK. My research project is exploring investigative interview strategies that promote honesty in child victims and witnesses. I am experimentally evaluating current best-practice guidelines in the UK and conducting research to inform evidence-based policymaking.
Abstract: Police officers in England and Wales follow the 'Achieving Best Evidence in Criminal Proceedings' guidelines. This best-practice protocol recommends that police officers use Truth-Lies Discussions (TLDs), at the end of the rapport-building phase of interviews, with child witnesses, to (i) gauge children's understanding of truths and lies and, (ii) remind children of the importance of telling the truth. However, there is limited evidence to support the effectiveness of TLDs in promoting honesty in child witnesses. Participants, aged 7 – 10 years (N = 92), first played a board game with a confederate, then witnessed the confederate commit a mock theft of money from a wallet and they were asked to keep this transgression a secret. Following this mock theft, all of the children were interviewed about what they had witnessed. At the beginning of the interviews one group listened to a neutral story and their conceptual understanding of truths/lies was recorded (control group, no TLD), a second group listened to a story about another child's transgression and took part in a TLD, and the final group watched a video recording of the transgression and took part in a TLD. Participants' conceptual understanding of truths and lies, and their subsequent truth and lie-telling behaviour, was recorded. Children's conceptual understanding of truths and lies was similar across all conditions. Overall, 32% of the participants were classified as lie-tellers. TLDs did not significantly promote honesty in children, and children's conceptual understanding of truths and lies did not predict their subsequent truth or lie-telling behaviour. The results emphasise the need for a change in best-practice guidelines towards the removal of TLDs in practice, as children who do not perform well on them are wrongfully perceived to be untrustworthy and unreliable witnesses.
---
---
---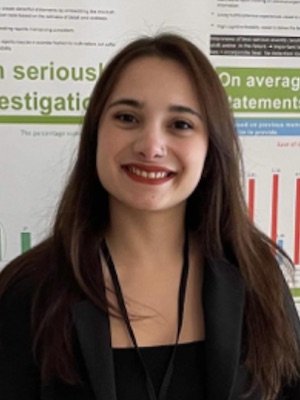 Dilhan Toredi
3rd Winner Presentation Award 2023
PhD candidate at Queen Margaret University, on a collaborative project with Edinburgh Napier University
I am interested in how people make memory-based decisions about faces, particularly after witnessing a crime. I aim to understand the cognitive and social factors affecting these decisions and the strategies, accuracy, and confidence with which they are made, and other individual differences contributing to differing eyewitness accuracy levels.
Abstract: Eyewitness identification is compelling but prone to errors. The cross-race effect (CRE) is a facial recognition deficit for different-race faces (cf. same-race). Generally, confidence predicts identification accuracy (Wixted & Wells, 2017). Limited research indicates confidence better predicts accuracy for same-race than cross-race faces (Dodson & Dobolyi, 2016; Smith, Lindsay, & Pryke, 2001). Although, race may not matter when the eyewitness is highly confident (Nguyen, Pezdek & Wixted, 2017). We tested the confidence-accuracy (CA) relationship in same-race/cross-race situations using a lineup paradigm. Asian and White participants each watched separate mock-crime videos for two Asian and two White targets. After each video, participants viewed either a target-present or target-absent sequential lineup for each target and provided their confidence in the decision (0-100%). Using multilevel logistic regression, we examined whether confidence interacted with the target race to predict accuracy.  A CRE was found for both White participants (z = 2. 66, p = 0.007), as well as Asian participants (z = 2.96, p = 0.003). Moreover, as expected, confidence predicted accuracy for White, z = 7. 13, p < .001 and for Asian participants, z = 6.51, p < .001. And, in line with other studies, the CA relationship did not differ for same-race and cross-race identifications for White, z = 1.10, p = .270, or Asian participants, z = 0.44, p = .66. Confidence-accuracy characteristic (CAC) curves for White and Asian participants and targets indicated a similar CA relationship for same-race and cross-race decisions. Notably, high confidence identifications were similar in both target race conditions for both participant race groups. We also investigated calibration indices (c, ANDI, OU) and their 95% inferential confidence intervals which showed no difference between target race conditions for the confidence-accuracy relationship. Finally, calibration was very good for all four conditions
---